Material Handling: Buyers Products Waterproof Electric Winches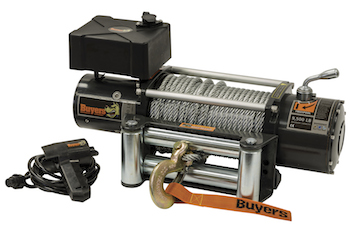 Buyers Products introduces new waterproof, electric winches.
Available in two sizes, 9,500-pound and 12,000-pound, the new commercial-grade electric line pull winches are ideal for utility, government and contractor fleet vehicles.
The waterproof-submersible construction seals and protects the electronics and internals for reliable use in the harshest of environments. The 12-volt winch is powered by a 4.9-horsepower series wound motor. A high-speed, three-stage, planetary gear box provides quick, efficient line speed.
The 3/8-inch, galvanized winch cable is 100 feet long. A standard spooling clutch provides quick, manual deployment of the winch cable. An auto-brake and power IN and power OUT by the handheld remote or optional wireless remote provide consistent load control for the user.
"For applications in damp or wet conditions, Buyers' new waterproof electric winches are essential equipment for work vehicles," said Dave Zelis, director of sales and marketing at Buyers Products. "Our products are constructed from high-quality materials and made to do their jobs well, for a long time."
For more information, visit www.buyersproducts.com. Email: sales@buyersproducts.com