Hand Tools: Crescent Connect Modular Clamp System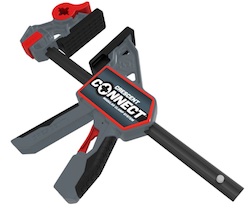 Crescent announces its new Crescent Connect Modular Clamp System. With a maximum clamp force 60% greater than similar clamps, the versatile hand clamp system provides woodworkers, contractors and trade professionals with the ability to clamp and hold multiple work pieces in any position.
The innovative new clamp system offers unprecedented flexibility with its Twin Lock Connector accessory that enables the connection of multiple clamps at any angle, rotation, or height.
The system is ideal for a variety of applications including furniture building and assembly, cabinet installation, and wherever a vise style clamp would be useful. The new clamp offers better leverage with less strain and, unlike similar clamps that quickly loose force over time remains close to clamp force until the clamp is released.
Crescent Connect Clamps offer end users improved access, speed and comfort. The teeth of the integrated pipe grip prevent twisting and slipping when cutting round materials. The bar lock lever easily slides up to quickly convert the clamp into a spreader.
Vise-style clamping allows for horizontal and vertical orientation. Oversize removable clamp pads provide a large surface area for maximum contact. The rubber-textured non-slip grips are easy to hold and provide extra comfort and traction while clamping.
"Crescent strives to offer tools that solve real jobsite problems," said Tobias Bridges, product manager for Crescent Connect Clamps. "End users have told us that the new Connect Clamps serve as a much needed extra hand when building or assembling furniture or holding work pieces in place. With this new system you're no longer limited to 90-degree angles. You can grip and hold two or more pieces together in almost any position."
The clamps are available in sets of two in 6" and 12" variations.