Hand Tools: Count On Tools MecaTorque Line by PB Swiss Tools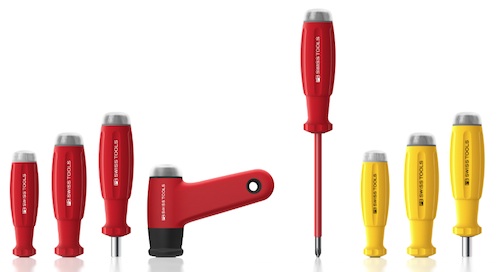 Count On Tools Inc. announces the launch of PB Swiss Tools' MecaTorque tools. This new line of analog torque wrench screwdrivers is simple, reliable and safe for application.
The new PB Swiss Tools MecaTorque torque tools can be used in a multitude of ways. Due to their ergonomic handle construction and mechanical design without electronics and without batteries, they are reliable and safe for application.
If needed, the handles can be adjusted: Users can adjust their torque without additional tools. This is done by unlocking the turning cap at the end of the handle, adjusting the desired value on the scale, and locking the turning cap again.
The new MecaTorque handle is available in four variants that are compatible with PB's existing line of interchangeable blades and PrecisionBits. The handle for the range from 10 - 50 Nm is tailored to precise work: It is smaller and fits the interchangeable blades PB 53 for precision work.
The larger handle is available in two versions: One for use with PB 215 interchangeable blades and one for use with C6 or E6 PrecisionBits. For high torques, the pistol-style handle provides support for perfect use. It is ideally matched for the use of PB 225 interchangeable blades.
All handles of the MecaTorque consist of non-slip material and feature ergonomics that are adjustable for various applications. The display on the analog scale is available as a metric [Nm] and a non-metric [ft*lbf] design. The new SwissGrip torque handles in ESD design ensure the discharge of electrostatic charges as well as when working in ESD-protected areas.
All of the torque handles are supplied with test certificate ±6 percent according to EN ISO 6789. PB Swiss Tools offers a warranty of three years against manufacturing and material defects for all torque tools. The MecaTorque is 100 percent developed and manufactured in Switzerland.