DAP Kwik Seal Ultra Sealant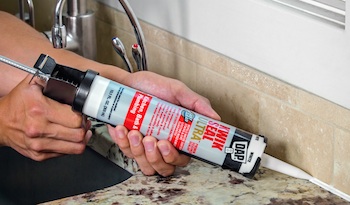 DAP Products Inc., introduces the latest innovation in sealants, KWIK SEAL ULTRA Premium Siliconized Kitchen and Bath Sealant. The innovative formula features ultra hydrophobic technology coupled with easy application and long-lasting durability for a sealant that stays looking clean, fresh and new.
Mold, mildew, dirt and stains can make sealants in kitchens and bathrooms look dirty and unsightly. Scrubbing away dirt and stains or replacing mildewed caulk is hard work and time consuming. DAP KWIK SEAL ULTRA changes everything. Mildew can't grow, stains won't stick and dirt rinses off. Formulated with advanced ultra hydrophobic technology, DAP KWIK SEAL ULTRA repels water, liquids, soap scum, stains and dirt so the sealant is easy to clean and stays looking fresh and new.
Backed by a lifetime mold and mildew resistance guarantee, KWIK SEAL ULTRA stays mold and mildew free for the life of the sealant. It has unparalleled stain proof protection, resisting the toughest stains such as grape juice, coffee, wine, mustard and more. It is 100% waterproof and crack proof and safe for all surfaces, even granite and marble.
DAP KWIK SEAL ULTRA is ready for water exposure in just four hours without washing out, putting the area back in service sooner. Plus, it applies smoothly, cleans up easily with soap and water and is low in odor, making it ideal when working in enclosed spaces.
DAP KWIK SEAL ULTRA is available in 10.1 fl. oz. cartridges or 5.5 fl. oz. squeeze tubes in white, clear and biscuit to match the most common kitchen and bath fixtures.