DAP Power Point 300 High-Performance Acrylic Urethane Elastomeric Sealants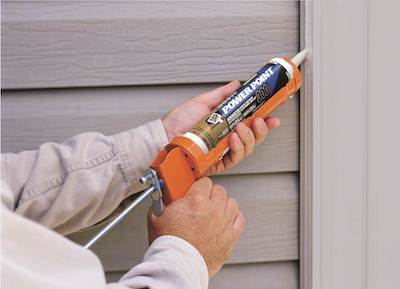 DAP, a leader in the home improvement and construction products industry, has expanded its line of Power Point caulks and sealants, specifically formulated for the Professional Painting Contractor, to include a line of high-performance Acrylic Urethane Sealants called Power Point 300.
Power Point 300 provides maximum flexibility and strong multi-material adhesion for a long-lasting, durable seal that won't crack. It also will be available in a full line of 14 colors, designed to match today's top trim and siding colors.
"Not all sealants have the performance features needed to stand up to demanding joint movement seen in both interior and exterior applications, which can cause them to crack and break down," said Justin Lingenfelser, Product Manager at DAP. "New DAP Power Point 300 has a unique urethanized formula for strong multi-surface adhesion and up to 600% stretch, allowing it to seal gaps up to three inches wide without cracking. It's designed to stand up to the constant expansion and contraction that homes go through as the seasons change."
Power Point 300 offers the versatility to be used for just about any interior or exterior project by providing a 100% waterproof and weatherproof seal, fast two-hour paint ready time, easy and smooth application, low odor and water clean-up. It has excellent compatibility with most paints and won't shine through, dull or discolor paint or cause paint film cracking. It's also backed by a Lifetime Guarantee, giving professionals the confidence to know the sealant will last.
Power Point 300 is available in an extensive color line that includes white, clear, off white, almond, tan, limestone, woodtone, bronze, aluminum gray, stone, redwood, redwood tan, pine green and black.
"The full color line was designed to match top trim and siding colors, allowing painters to create a professional finish without the need to paint over it," added Lingenfelser. "This saves time and allows for a professional finish, quickly."
Power Point 300 joins the line of other DAP Power Point Caulks and Sealants specifically formulated for professional painting contractors:
Power Point 230 Elastomeric Acrylic Latex Sealant – Delivers premium performance and flexibility for demanding interior and exterior molding and trim projects. Ready to paint in just 30 minutes with no paint "shiners." Available in White.
Power Point 210 Fast Dry Siliconized Acrylic Latex Caulk – This fast-dry formula improves productivity with a 20-minute brush paint-ready time and immediate spray paint time. Available in White.
Power Point 200 All Purpose Siliconized Acrylic Latex Caulk – Excellent quality, all-purpose acrylic latex formula with silicone additives for increased adhesion strength. Paint ready in just 30 minutes. Available in White and Clear.
Power Point 100 Acrylic Latex Painter's Caulk – Offers tremendous value and performance for the pro painter. Available in White.
DAP Power Point 300 will be available for purchase in paint stores nationwide beginning July 2020.
About DAP Products Inc.
Founded in 1865, DAP is a leading manufacturer and supplier of caulks, sealants, foam, adhesives, and patch and repair products with a history of first-to-market innovations. For 155 years, DAP has provided professional contractors, remodelers and do-it-yourselfers with trusted, quality, reliable, and long-lasting products.
For more information about DAP products and applications, visit our website at www.dap.com.