DEWALT 12-Gallon StealthSonic Wet-Dry Vacuum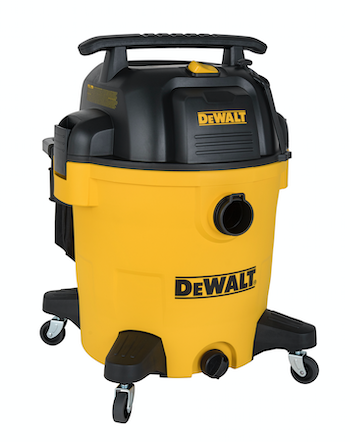 The DEWALT 12 Gal. STEALTHSONIC Poly Wet/Dry Vacuum has a powerful quiet motor providing enough suction power (up to 18Kpa) to clean up tough wet and dry debris with less than 65dB(A).
Its durable quick-connect locking hose makes for an easy but secure hose connection.
The 2-1/2 in. diameter size resists clogs and makes cleaning large messes quick and easy. Built-in drain allows for convenient emptying of liquids.
Swiveling casters and the fixed handle provide ease of movement while an on-board tool storage and power cord wrapping design help eliminate unnecessary hassle and reduce overall storage space.
Specifications:
12 Gallon*
8.85 Gallon (Wet) / 12.25 Gallon (Dry)
60 Hz
5.5 PHP**
Single Stage Motor
105 CFM (49.55 L/s)
Decibel rating: Less than 65 dB(A)
Sealed Pressure: 72 Inch H O (18.00 KPa)
2-1/2 in x 7 ft (64mm x 2.1 m) Hose
Product Size (LxWxH): 22.59 x 19.09 x 26.65 inch
Net Weight: 25.35 lbs / 11.50 kg • UPC: 00810018927950****
Accessories:
A. Hose (DXVA19-2501)
B. 2 Extension Wands (DXVA08-2502)
C. Round Brush (DXVA08-2401)
D. Utility Nozzle (DXVA08-2503)
E. Floor Nozzle (DXVA08-2591)
F. Crevice Nozzle (DXVA08-2506)
G. Washable Cartridge Filter (DXVC6910)
H. Disposable Dust Bag (DXVA19-4102*3)
I. Accessory Bag (DXVA19-5156)