RIDGID Pipe Patching System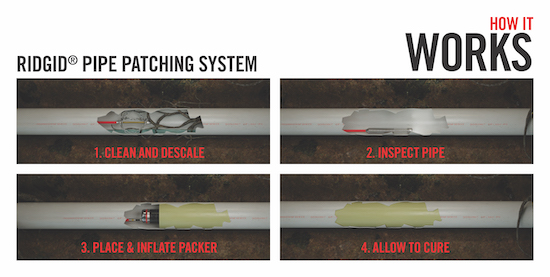 RIDGID®, part of Emerson's professional tools portfolio, introduces an all-inclusive, start-to-finish solution for faster and simpler trenchless repairs. The RIDGID Pipe Patching System is the most versatile system on the market, offering more types of repairs with less materials and equipment. Featuring a durable fiberglass patch, it is ideal for repairing small sections of damaged pipe in residential, commercial, and industrial settings.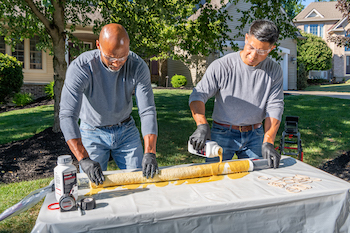 The Pipe Patching System offers all the consumables and equipment needed for a one-time patch in 2-inch to 6-inch broken pipe up to 6-feet in length and can be used on all sections of pipes, including straights, bends transitions and p-traps. The entire process can be completed in two hours or less, offers a fast return on investment and is easy to learn.
"Pipe patching not only saves time and money, it also is a simpler solution and one that can easily be added to a company's existing pipe inspection and drain cleaning services," said Jeff Albertini, marketing director, underground technologies, RIDGID for Emerson. "The RIDGID Pipe Patching System allows professionals to show up on a jobsite and complete all three steps of a pipe repair – clean, inspect and patch – in a few hours."
Pipe patching is an efficient, durable alternative option that saves time and labor, while also offering client cost- savings, environmental benefit, and minimal disturbance to surrounding areas and business productivity. While a great stand-alone business, pipe patching is a differentiator for businesses already participating in pipe rehabilitation and a great first step for those new to the trenchless market.
To purchase or learn more about the pipe patching solution, visit RIDGID.com, or call toll-free: 1-800-4RIDGID.
Emerson's professional tools business, which includes RIDGID as well as the Greenlee® and Klauke® brands, provides the industry's broadest portfolio of advanced, reliable tools and technologies for the mechanical, electrical and plumbing trades globally. Visit emerson.com/professionaltools for more information.