DEWALT DCB094K USB Charging Kit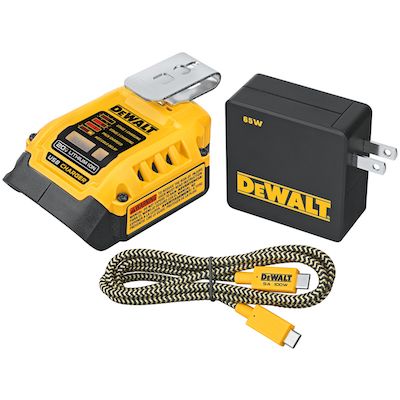 The DEWALT USB Charging Kit (DCB094K) is a breakthrough in portable charging convenience and was recently awarded a 2021 Pro Tool Innovation Award (PTIA) for "Best Battery Power Supply".
As jobsites often lack AC power, the DEWALT USB Charging Kit utilizes Power Delivery technology to rapidly charge a range of devices in a compact and portable design.
Featuring a 100W bi-directional C-port, users can input power to charge DEWALT 20V MAX* and FLEXVOLT® batteries, and output power to charge a range of business critical and personal devices such as phones, tablets and laptops up to 100W.
The portable USB Charging Kit also features a USB-A port, allowing users to charge devices up to 12W using traditional USB cords. The device is equipped with a State of Charge Indicator to display the battery charging status and comes kitted with a DCB094 USB Charger, 100W rated USB cord, a 65W AC power supply and belt hook.
"We are thrilled to be reuniting with electrical contractors at NECA to share exciting new innovations that will continue our transformation of the industry," said Jon Howland, Director, Trade and User Marketing for Stanley Black & Decker. "We value and appreciate the hard work our tradespeople do every day to power our world, and we strive to engineer stand-out products to help them get the job done."