Estwing Shingle Stripper

Estwing Manufacturing Co., one of the world's leading manufacturers of striking tools, is partnering with MBI Tools, a manufacturer of premium shingle removal tools. MBI Tools will design, develop, and manufacture an all-encompassing line of roofing tools with an innovative design that expands Estwing's core brand into the roofing removal category.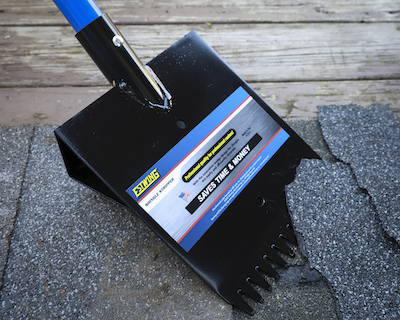 The Estwing Shingle Stripper is designed to make removing shingles in both commercial and residential applications much easier.
The four-foot straight handle stripper is constructed of durable steel and features a comfortable heat-treated steel D-grip handle. Wedge design removes multiple layers of shingles and nails with ease.
The Estwing Mini Stripper has a smaller design to reach tight spots around dormers, overhangs, step flashing and ridge cap removal. It's 24" made of high-quality heat-treated steel with a D-grip handle.
"For decades, Estwing has been recognized as a trusted brand by the Professional Contractor and DIY Enthusiast for its legendary quality and durability," stated Justin Wolfe, President, MBI Tools. "Combining our innovation with a powerful global brand like Estwing will set this range apart from the competition. We are thrilled to be partnering with a premium brand like Estwing."
The Estwing Shingle Strippers will be available through Industrial Distributors, Home Improvement and Hardware Stores, and at www.mbitools.com
About Estwing
Estwing Manufacturing Co. (www.estwing.com) is a leading manufacturer of the world's most durable, and comfortable striking tools. Its innovative designs continue to create the most revolutionary and long-lasting tools in the market. Their patented shock reduction grip on all tools was designed with ergonomics in mind. Started in 1923, Estwing product lines can be found in leading Hardware Stores, Home Centers and Retailers throughout the United States, Canada and the world. Estwing is headquartered in Rockford, IL U.S.A.