Screwdriver Accessories: DEWALT Right Angle Attachment

DEWALT's new Right Angle Attachment (DWARA100) allows users to drive screws and drill holes in tight places with 5X longer life on average than the leading competitor's models. The DWARA100 is ideal for HVAC professionals, steel framers, electricians, plumbers, and general contractors who need to access tough-to-reach spaces.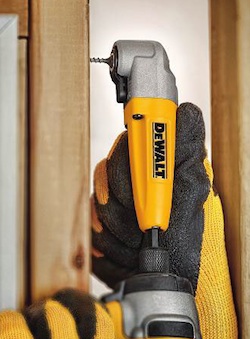 "Through extensive research, we found that users were frustrated with existing attachments on the market," explained Patrick Guillory, Product Manager, DEWALT. "Issues included poor fastener retention, a lack of durability, and the need for an Impact Ready solution. When we created the Right Angle Attachment, we focused on each of these areas to ensure the best quality product we could make."
The head on the DWARA100 is 1.75" from tip to back, making it one of the shortest right angle attachments on the market. It also has a true 90°angle, ensuring outstanding access in tight spaces.
This tool encompasses Impact Rated gears for long life in high torque applications. Additionally, it features a floating ring magnet for fastener retention. This supports fasteners with 100% alignment and holding power assurance.
The DWARA100 has an ergonomic handle made of high strength engineered plastic. The DWARA100 is compatible with any hex shank bit tips, nutdrivers, IMPACT READY hole saws, drill bits, and spade bits for a versatile solution.