Deb USA Solopol GFX Hand Cleaner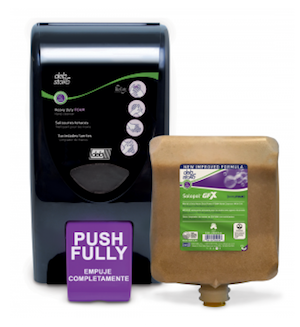 Deb USA, part of SC Johnson Professional, today announced that its heavy-duty foam hand cleaner with grit, Solopol GFX, has earned Green Seal certification under the organization's rigorous GS-41B standard for industrial and institutional hand cleaners.
Green Seal, an independent nonprofit, is the nation's premier environmental standard developer and certifier. Solopol GFX is the world's only heavy-duty foam hand cleaner with grit and contains skin-safe and environmentally-preferred ingredients such as biodegradable cornmeal and olive pit scrubbers.
"Our Solopol GFX is certified USDA BioPreferred and UL ECOLOGO, and now Green Seal, making it an important fit with our efforts to provide our customers environmentally responsible products," said Isabelle Faivre, Vice President of Marketing, Deb USA, Inc. "It's important that our products perform at a high level while providing skin- and environmentally-safer alternatives to traditional heavy-duty cleaners."
Solopol GFX's patented foaming technology transforms the liquid into rich, creamy foam. The foam lather spreads quickly and easily for fast and powerful cleansing, delivering the optimum amount required for effective hand washing. The heavy-duty cleaner provides up to 42 percent more hand washes per liter and lasts nearly twice as long as traditional two-liter heavy-duty cleaners, reducing maintenance costs and overall spending related to hand cleaners.
Green Seal standards require industrial and institutional hand cleaners to be limited on toxicity, volatile organic compounds, dyes, phosphates and potentially harmful substances like petroleum-based solvents. The product must also be readily biodegradable, recyclable and the packaging must maximize performance while minimizing waste.
"Deb is a longtime environmental leader with a 10-year history of producing Green Seal-certified products," said Mary Swanson, Interim President, Green Seal. "We are proud to welcome Deb's Solopol GFX as the newest addition to their Green Seal-certified portfolio, and look forward to working with them for years to come."
For more information about Solopol GFX, visit www.debgroup.com/us/solopol-gfx-innovation.