Ram Board Painter's Board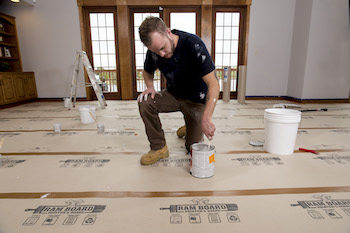 Don't risk it with rosin. Introducing Painter's Board by Ram Board. It is the first of its kind; durable, spill resistant, flexible and entirely designed for painters.
For years professional painters and DIY consumers have used red rosin paper to protect floors while painting. And, for years, painters and consumers have been frustrated to find that red rosin paper lacks durability, often causing them to replace rosin paper multiple times during a paint job.
Even worse, this antiquated material used to protect floors doesn't even provide liquid resistance. These are the main features you need in floor protection while painting, otherwise, what's the point?
Painter's Board is created with the same rigorous standards as Ram Board. Just as Ram Board holds up to strenuous commercial jobsite conditions, you can trust Painter's Board to hold up to strenuous painting conditions. This means when a can of paint spills, you can rely on Spill Guard technology to keep paint from getting to your floors and other surfaces.
When ladders, furniture and other house-hold items are dragged across expensive hardwood floors, you can trust the durability of Painter's Board to prevent scratches and damages.
"Ram Board's business was built by listening to our customers and developing problem solving, innovative solution based products," said Elliot Piltzer, Ram Board's vice president of sales. "The paint market needs an easy to use, reliable, more durable floor protection product and that's where the Ram Board team uniquely developed the one of a kind Ram Board Painter's Board."
Painter's Board also features Vapor Cure technology. This attribute allows air and moisture to escape, which is crucial for the even curing of newly installed concrete, glue down floors, stained floors, epoxy floors, and refinished floors. Painter's Board lays fast and flat during installation and is made of 100% natural non-staining recycled materials. If Painter's Board gets wet, staining will not occur as it continues to provide protection throughout the paint project.
Each light-weight roll is 35 inches wide; allowing it to fit in standard residential halls and most doorways. At only 10 pounds a roll, it is easy to move multiple rolls at one time.
Painter's Board is now available. Visit RamBoard.com to locate Painter's Board in your area.