Diamond Products CV258LC CORE VAC Hepa Vacuum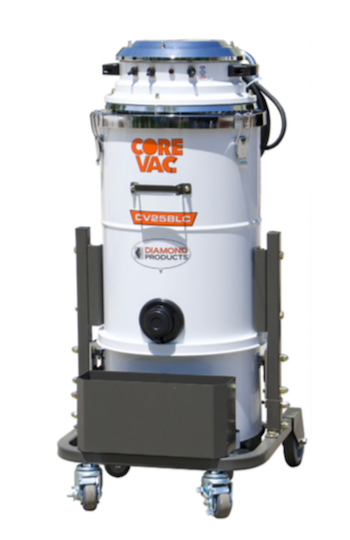 Diamond Products Limited announces its updated CV258LC can-style vacuum. This mid-size model is used dry and features a Hepa filtration system, and two motors at 120V, 2700-Watt power and 258 CFM. This unit has a patented self-cleaning filtration system that collects dust into a solid steel constructed lifting can.
The lift-can system makes is fast and easy to dispose of dust and debris. The CV258LC can be used with our Dust Bandit shrouds and our full line of floor grinders while maintaining OSHA compliance.
Features/Benefits:
2" hose diameter
2 motors
Self-cleaning patented filtration system
HEPA filters
Solid steel construction
Easy to maneuver with heavy duty caster wheels
Headquartered in Elyria, OH, Diamond Products is one of the world's leading diamond tool and equipment manufacturers. For more information please visit our website at www.diamondproducts.com or call 1-800-321-533.