EZ Slide Cabinet Hardware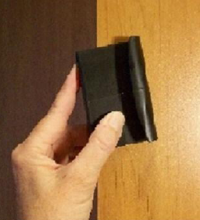 CLE Assets, LLC is proud to announce EZ Slide Cabinet Hardware, the first product of its kind allowing cabinet hardware to slide right on to the cabinet, NO DRILLING required.
The hardware adheres to the cabinet by tension, due to the patented design. Made in the USA with recycled aluminum, the handles are durable, stylish and "Green."
A second product of EZ Slide Cabinet Hardware, known as the "Cupboard Hugger" slide on handle, is made with recycled plastic, providing an inexpensive solution of installation and functionality, for a lower carbon footprint.
Today's consumers want options; and another product is EZ Slide Converter Fastener which provides just that, an imbedded screw, allowing your favorite knob to screw right on easily. All the products can save time, money and stress. Install a handle in seconds, no tools needed!
For more information, call 623-551-3558 or visit the Web site.