Simpson Strong-Tie Dexxter Screws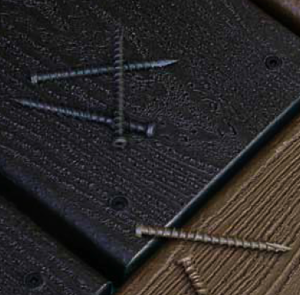 Simpson Strong-Tie introduces its expanded line of Dexxter fasteners for composite and encapsulated-composite decking. Now available in coated carbon steel, the new screws are designed to ease installation and offer a cleaner, less noticeable fastening solution.
The Dexxter screw's trim pan head and patented thread formation reduce the mushroom effect common with traditional decking screws, resulting in a smoother clean-looking installation. It also features a Type-17 point that easily pierces composite deck boards for faster starts and a Quik Guard coating to provide corrosion protection with many preservative-treated wood substrates.
The carbon-steel Dexxter screw is available in a variety of shades to match colors from leading composite decking manufacturers and is approved for use with the Trex Transcend decking and railing system. Customers also can choose stainless-steel Dexxter screws, which come in the popular 6-lobe version with optional painted heads.
Dexxter fasteners are offered in hand-drive options as well as collated strips for use with the Simpson Strong-Tie Quik Drive auto-feed screw driving system.