Epson LABELWORKS LW-PX350 Label Printer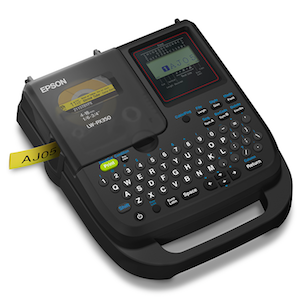 The new Epson LABELWORKS PX LW-PX350 is a portable wire-marking, barcode and general-identification printer for creating custom and compliant labels up to 3/4" (18 mm) wide.
Identify wires and equipment, organize tool cribs and storage bins, make safety labels, tag assets and more. With special-function hot keys and an automatic cutter, this easy-to-use label maker offers extraordinary flexibility and power at an extremely affordable price.
The LW-PX350 allows users to quickly sequence numbers and letters commonly used for wire and cable identification. Backed by LABELWORKS PX's unbeatable lifetime warranty, the LW-PX350 meets MIL-STD 810 drop-test specifications to ensure durability.
"The LW-PX350 is a cost-conscious choice for a variety of applications," says Andrew Kasun, marketing manager for Epson LABELWORKS PX. "Professionals in construction, warehouse and industrial settings will be impressed by the PX350's versatility, wide range of supplies, and ease of use for almost any labeling application on the job or in the field."
The LW-PX350 uses LABELWORKS PX industrial supplies from 1/8" (4 mm) to 3/4" (18 mm) wide, including five sizes of heat shrink tubing (1/8", 3/16", ¼" 3/8" and ½") plus magnetic, strong adhesive, removable adhesive and more. Durable LABELWORKS PX supplies have more material per cartridge and are designed to simplify supply selection for professional and industrial visual communication throughout the facility or on the job site.
Epson LABELWORKS PX products are available through K-Sun Corporation's authorized distributor network in North America. For more information contact K-Sun at 1-800-622-6312, info@labelworks.epson.com or http://labelworks.epson.com.