M-Power Diamond Cross 8-inch Benchstone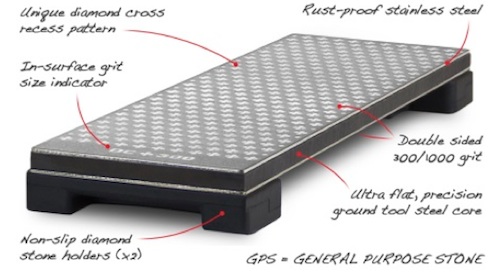 The Diamond Cross 8" Benchstone lies at the heart of M.POWER's new comprehensive range of diamond sharpening stones. Using only the finest materials available the 8" Benchstone is a unique laminated hybrid sharpening system.
The 8" bench's monocrystalline diamond plates are made of high quality rust-proof stainless steel.
At its core is a precision ground, tool steel plate that provides the first building block of an ultra flat diamond surface. Finished tolerance +/- 0.00175" ( 0.044mm) across entire length.
This laminate is then pressure bonded using a high-specification 3M adhesive.
The result is a stone offering the performance and flatness of one costing twice as much; it's also backed with a three-year "no quibble guarantee."
At 8" x 2.3/4" (203 x 70mm) there's nothing that comes to mind that can't be sharpened on the DC 8" bench stone.

Double Sided Monocrystalline Diamond
Side One: Coarse (50Micron or 300# is used for fast stock removal, Ideal for preparing an edge for a fine hone.
Side Two: Fine (15Micron 1000#) is used for fine honing and finishing
Every 8" Bench stone coming off M-POWER's production line in Salisbury UK is individually tested "old school style" on a super flat granite testing plate with a set of feeler gauges. If it does not meet an overall tolerance of +/- 0.00175" / 0.044mm across the entire length and width of the diamond stone, it does not pass QA and you will not see it in your woodworking store.
Our new interlocking magnetic Nitrile rubber stone holders safely hold your 8" Bench stone steady on a work surface. They can also hold a range of other regular diamond stones including the smaller tricky to hold credit cards.
Cleaning Block: Supplied with every 8" bench stone is a cleaning block, which quickly removes debris and dirt build up on the diamond plate surface, leaving it as new in seconds.

Storage Wallet: The 8" Bench stone is packed in a well made canvas storage wallet with a Velcro strip fastener.