Extech MA440, MA443 and MA445 Clamp Meters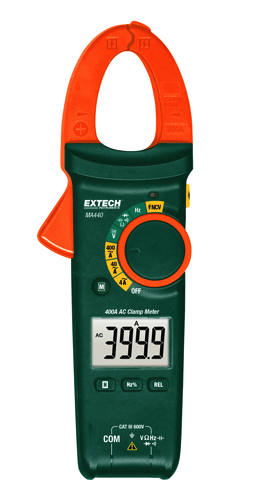 Extech Instruments, (www.extech.com) announced today the launch of the MA44x series of 400A clamp meters. The three meters offer comprehensive multimeter functions and a built-in non-contact AC voltage (NCV) detector to meet the exacting needs of electrical contractors and HVAC/R technicians.
Complementing the existing clamp meter lineup, the meters in the new series are all equipped with the fundamentals.
The MA440 measures AC current up to 400A, DC and AC voltage up to 600 volts, resistance, capacitance and frequency.
The MA443 adds True RMS measurement, for the accurate reading of non-sinusoidal waveforms, and thermocouple temperature measurement.
In addition to these, the MA445 measures DC current up to 400A, which makes it the ideal clamp meter for professional residential and commercial applications such as automotive, heavy equipment and marine DC current measurements.
All three models are rated CAT III - 600V. The large character 4-digit (4,000 count) backlit LCD display is easy to read and the built-in flashlight in the MA443 and MA445 provides instant illumination for workplace areas with poor lighting.
The series all feature the handy NCV detector function, which can quickly identify the presence of voltage on live wires. This safety feature provides extra value by eliminating the need for a separate tester and reduces tool bag clutter.
Additionally, the series features duty cycle and diode/continuity measurement and an auto power-off feature to extend battery life. For critical measurements, this feature can be disabled in the MA443 and MA445, which also feature Max/Min measurements.
All three meters feature a jaw size of 1.2" (30 mm) to accommodate up to 500MCM conductors and are therefore suitable for most users in electrical, HVAC/R and electronics design, installation, testing and repair. MA44x series meters come ready to use with three AAA batteries, test leads, and storage pouch, and are backed by Extech's two-year warranty. A Type K bead thermocouple is also supplied with the MA443 and MA445.
Learn more about the MA44x series here:
MA440, http://www.extech.com/ma440
MA443, http://www.extech.com/ma443
MA445, http://www.extech.com/ma445
Extech's new meters are available now from Extech distributors around the world. To find a distributor, please visit our website.
US: www.extech.com/display/?id=15032386024
International: www.extech.com/display/?id=17571