Fairbanks Scales FB2560 Digital Scale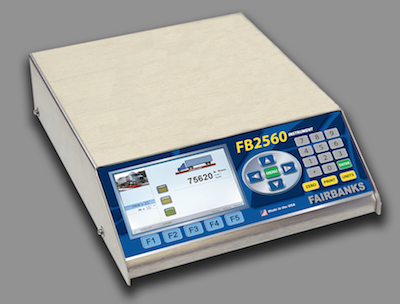 Fairbanks Scales Inc. announces the new and improved FB2560 instrument, which incorporates even faster processing power, expanded USB capabilities, an updated operating system, and more memory than the FB2558.
Transitioning to the new instrument is easy, since the FB2560 maintains the same industry leading feature set, including setup, calibration methods, and user-friendly web interface.
Processor speed has jumped from 1.6 gigahertz (GHz) dual core with the FB2558 to 1.83 GHz quad core for the new FB2560. Memory has doubled to 4 gigabytes (GB).
There are now five USB ports – three are USB 2.0; one is USB 3.0; and one can be used for a QWERTY keyboard.
The external display now uses a Digital Video Interface-1 (DVI-I) connector.
In addition, power requirements for the FB2560 are now 100-240 volts of AC power at 47-63 Hertz, helping to improve efficiency as well as provide a wider input so the instrument works in countries with different voltage and frequency systems.
To learn more about the FB2560, visit www.fairbanks.com