FallTech DuraTech Personal Leading Edge SRLs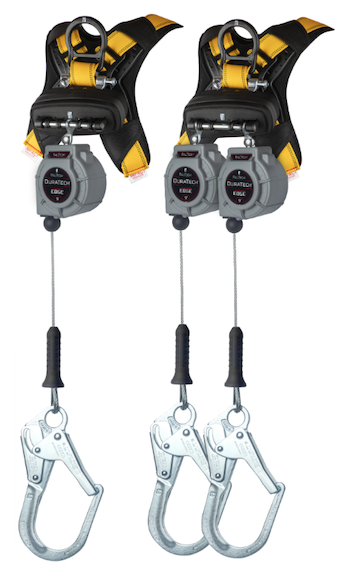 FallTec announces the launch of its DuraTech Personal Leading Edge line of single and twin 9' self-retracting lifelines.
"We designed our new family of DuraTech Personal LE SRLs' first and foremost to protect people working at heights from dangerous leading edge conditions," said Zachary Winters, FallTech Engineering Manager. "We tested them to meet ANSI leading edge standards to help protect against sharp edge hazards. Also, their innovative design assures that they connect quickly to a harness, are compact and durable."
Key benefits and features include:
The proprietary integrated dorsal connector provides a quick and straightforward push-button attachment.
The exclusive energy absorber design and placement limit user back discomfort.
This new family of SRL's are calibrated for typical walking speeds without the nuisance of unintended lock-ups.
The constant-force main spring produces smooth lifeline payout and retraction operation.
The lightweight and impact resistant nylon polymer housing ensures durability.
Designed for overhead anchorage and up to 5' below the user's D-ring.
9' working length for users weighing up to 310 lbs.
Available in single and twin-leg configurations with steel and aluminum snap hook, rebar hook, and carabiner lifeline connector options.
Since 1991, FallTech, a leading U.S. manufacturer, fuses all fall protection safety with technology into state-of-the-art fall protection solutions. With our in-house ISO 17025 accredited test lab, we ensure that FallTech solutions meet or exceed ANSI standards. We are committed to our products performing in the most demanding field conditions, combined with reliable performance, value, and outstanding service.

We know you work hard, and we've got your back. Whether you need your job site outfitted with fall protection gear or training, our experts make it easy and help you find the right solution. Standards change. Regulations shift, but FallTech's commitment to our customer's safety is rock solid.