Simpson Strong-Tie CSHP High-Performance Coiled Strap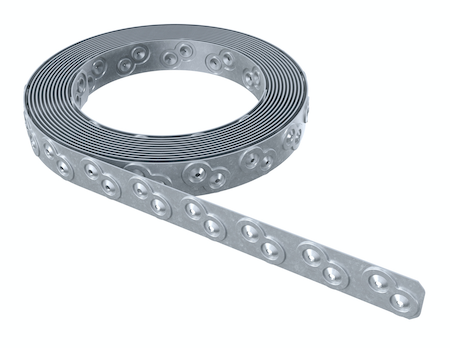 Simpson Strong-Tie announces the launch of the patent-pending CSHP high-performance coiled strap, the only coiled strap designed with a raised embossment for faster installations using fewer nails and shorter straps, resulting in reduced cost and improved jobsite efficiency for builders and contractors.
The innovative CSHP can easily be cut to length at the jobsite for a wide range of floor-to-floor, drag strut, and other tension load transfer and positive-tie strapping applications. The incorporation of a raised embossment makes the strap easier to install using standard pneumatic nailers, while providing increased rigidity and strength for designers and specifiers in need of higher allowable loads.
Because CSHP achieves higher load values than traditional flat straps, contractors can use shorter straps with fewer nails, driving down labor and material costs.
"With the labor shortage impacting the construction industry, contractors are looking for building solutions that require less skilled labor and lower installed cost," says Sam Hensen, Vice President of Connectors and Lateral Systems for Simpson Strong-Tie. "The CSHP meets those needs by providing an industry-first embossed coiled strap that eases installation, and reduces material costs while boosting productivity to help builder businesses succeed."
The CSHP high-performance coiled strap is available in 1 3/8"-wide straps packaged in 75ʹ coils and features a colored dot facing out when installed correctly to help contractors, eningeers and building inspectors identify proper installation from close range and longer distances.
Builders and designers seeking the best coiled strap product can use the Simpson Strong-Tie Coiled Strap Calculator web app to quickly determine the best strap solution and length based on specific applications.
For allowable load tables, detailed installation instructions and more information about the CSHP high-performance coil strap, please visit strongtie.com/cshp.