Festool CT Dust Extractors
Smooth suction hose, Bluetooth modules and remote control units are also available for existing CT Models.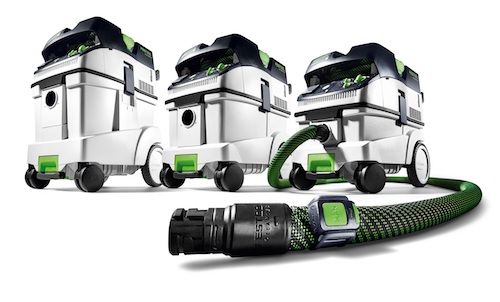 Festool is introducing several newly updated models of its award-winning CT Dust Extractor product line which will feature smooth suction hoses, optimized SYS-Dock with cord holder, T-LOC function and optional Bluetooth connectivity with remote control. The new CT Dust Extractors, smooth suction hose, Bluetooth modules and remote controllers are available now.
"The new CT Models provide a dramatically improved level of functionality," says Leo Zirkler, Vice President of Marketing at Festool, "The smooth hose glides perfectly over any surface or edge, while adding the Bluetooth module and remote controller makes it a completely new dust extraction experience – you can now start the CT remotely, get autostart functionality with our cordless tools, and roll everything securely to and from the jobsite with the new T-LOC that works seamlessly with our SYSTAINERs."
Many of Festool's existing CT models can be retrofitted with the Bluetooth modules and remote starters and the new smooth hoses can be used with almost the entire CT product line.
The new smooth suction hose and optimized SYS-Dock with cord holder and T-LOC function for conveniently connecting SYSTAINERs to the mobile dust extractor features:
The new suction hose is perfect sliding over edges, improved handling and a longer service life. With new CLEANTEC extraction sleeve for a secure fit on the tool.
The CT 26, CT 36, CT 36 AC and CT 48 can be individually retrofitted with a Bluetooth module for remote operation via a remote control on the suction hose or a Bluetooth battery pack when working with Festool cordless tools.
The optional Bluetooth modules and remote controllers now enable you to benefit from Festool's virtually dust-free system when working with Festool cordless products, too:
Ideal for occasional cleaning tasks without having to change the CT Dust Extractor from AUTO to MAN mode.
Start your CT Dust Extractor with the remote control directly on the suction hose.
The Bluetooth module communicates with Festool Bluetooth battery packs. The CT Dust Extractor is started automatically when the cordless tool is switched on.
For more information, visit Festool USA or Festool Canada