Hamilton Casters and Wheels for Automatic Guided Vehicles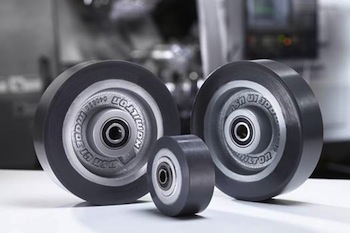 Hamilton Caster is proud to announce a new comprehensive offering of casters and wheels designed for Automatic Guided Vehicles (AGV's) and other continuous-duty applications. Hamilton's been designing casters and wheels to operate on AGV's for years now and recent high demand for AGV's triggered this new standard product offering designed for 24/7 operation.
According to Jeff Spektor, Hamilton's Chief Caster Engineer, "the design for these AGV casters and wheels stems from a compilation of lessons learned from past custom AGV applications. Our customers provided excellent feedback over the years to share the "how's and why's" of premature wear of certain components. I'm proud to say that we were able to address each one of them and incorporate the "fixes" into this new bullet-proof AGV Series."
The series features Hamilton's forged steel caster construction and HPI swivel technology. HPI® was developed years ago in response to an AGV application and outperforms conventional CNC-machined ball raceways, kingpinless and unit load bearing swivel constructions. The Hamilton engineers then hand-picked two of our polyurethane treads—DuraGlide-AGV and Ergo-Glide-XT-AGV—for their easy rolling, quiet operation and overall stellar durability.
The DuraGlide-AGV wheel is our "goto" choice for the majority of AGV applications. Engineers formulated DuraGlide to run much cooler than most polyurethanes resulting in an excellent wheel for continuous duty applications. Select Ergo-Glide-XT-AGV to repel foreign objects/debris (FOD) and for a softer ride.
For added durability, the wheel cores of the 3", 4" and 5" wide wheels were upgraded from cast iron to forged steel. The forged steel cores feature larger hubs to accommodate larger size and number of precision ball bearings to significantly increase the bearing life. Our engineers then designed press-fit top hat spanner bushings to eliminate axial play and reduce noise. Finally engineers specified more robust wheel axles.
The end result is a caster series designed to stand up to non-stop punishment and years of trouble-free performance. The AGV caster load capacity range begins at 800 lbs. per caster with a max load rating of 15,400 lbs. per caster. Wheel diameters range from 4" to 16". The new series is offered in both single wheel and dual wheel styles; select dual wheel models to gain stability and higher capacities.
Learn more at Hamilton's new AGV Caster & Wheel Landing page.