Handling Systems International NikoRail Enclosed Track Crane Systems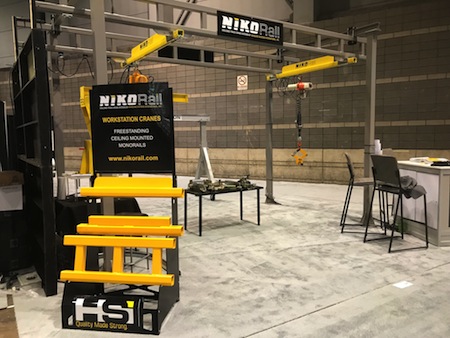 Handling Systems International, Inc. (La Grange, IL) recently announced the release of their NikoRail enclosed track crane product offering at the Promat Show in Chicago. This new product will complement their current offering of jibs, gantries and I-beam cranes and runways.
"We've partnered with Helm Hellas from Greece to provide us with the rail and a full line of hardware and components to offer some unique material handling solutions. We are bringing in the raw, roll formed steel and welding the cranes right here in our new McCook, IL facility," commented Mike Rehor, Vice President of Sales and Marketing at Handling Systems International.
"We have seen strong demand for enclosed track cranes over the past several years and this product compliments our dealers desire to have an alternative source and Midwest manufacturer of enclosed track cranes. Our new facility will allow us to more easily manufacture this product and service our dealers needs."
Handling Systems International has launched a new web domain: www.nikorail.com and full marketing material to support their dealer sales efforts. Headquartered in La Grange, IL., Handling Systems International, Inc. (www.hsicrane.com) is a leading manufacturer of Jib and Gantry Cranes, Bridge Cranes and Material Handling Solutions.