JLG Large Materials Racks for Scissor Lifts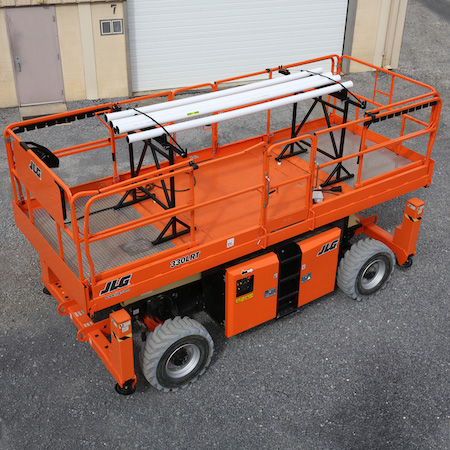 JLG Industries, Inc., an Oshkosh Corporation company [NYSE:OSK], and a leading global manufacturer of aerial work platforms and telehandlers, announces the release of material racks for Large Rough Terrain (LRT) and Rough Terrain (RT) Scissor Lifts. The racks allow operators to transport larger materials around the workplace in a safer and more organized manner.
"Our ongoing pursuit of job site safety and productivity enhancements led to the development of large material racks for our rough terrain scissor lifts," said Rafael Nunez, senior product manager, scissor and vertical lifts, JLG Industries. "Having the ability to transport large items on these lifts not only helps reduce ground hazards, but also contributes to increased worker output."
The racks offer a durable solution for transporting items, featuring nylon straps to hold heavy materials in place. Rated for outdoor use, they include a foldable cradle that accommodates a variety of building supplies including piping and flat materials. For wide panels, the racks feature extendable arms for loading.
To ensure extra-large materials can be transported easily, racks include fixed deck footers that allow the extension deck to expand and retract. The racks can support up to 860 pounds of material while allowing two operators in the platform. Large material racks are ideal for a variety of applications including construction, demolition, HVAC maintenance, plumbing installation, electrical work and more.
For more information on JLG large material racks, please visit https://www.jlg.com/en/equipment/options/scissor-lift-options/large-material-racks. For more information about JLG®, visit the website at www.jlg.com.