HellermannTyton Industrial Inkjet Printer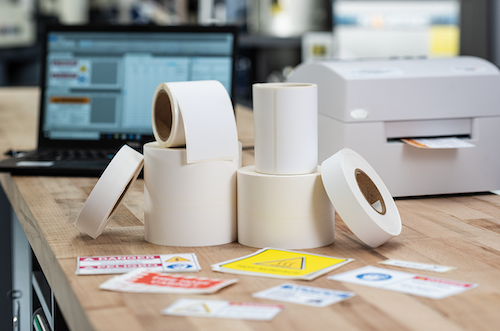 Industrial Inkjet Prints Safety Labels On Demand.
HellermannTyton's CIJ4800 Color Inkjet Printer provides manufacturers, contract shops and installers the ability to generate their own durable, chemical-resistant labels at ultra-high resolution. While most users purchase these labels as needed, printing in-house offers many benefits.
The primary reason to own an industrial-grade color printer is the convenience of printing safety identification the moment it's needed. Traditionally, users order these labels online, which means the potential hazard doesn't receive safety messaging until the labels arrive.
Cost is another incentive. The printer package's $1,600 list price is less than the average savings over the course of the first year of ownership. The price per label purchased online is about four times greater than printing on demand. Yet, from HellermannTyton's perspective, performance was the priority.
""We set out to offer customers a durable printing solution first and foremost," said Todd Fries, HellermannTyton's product category manager – identification. "The CIJ4800 uses pigment-based inks, which withstand exposure to chemicals, solvents, water and excessive UV light. Dye-based inks, like you find on a typical inkjet printer, tend to bleed if they become wet and won't stand up to the abuse occurring in many industrial environments."
The CIJ4800 offers sharp 4800x1200 dpi resolution and prints on blank label rolls from 1" to 4" wide.
To ensure users can tap into the full value of the CIJ4800, the package includes HellermannTyton's $500 label printing suite, TagPrint Pro. It contains code-compliant templates and design software and features print automation, which allows users to batch process label jobs to save time.
View more information here.
About HellermannTyton
HellermannTyton is a global leader in cable management and protection products, identification systems and network connectivity solutions. Its systems and solutions are specified by major manufacturers and contractors in the OEM, data communications, automotive, heavy equipment, renewable energy and related industries. The company's engineered solutions and innovative products are designed and constructed to meet the strictest quality standards while delivering reliable implementation at the lowest cost.
HellermannTyton operates in 39 countries, with North American headquarters in Milwaukee, Wisconsin (www.hellermann.tyton.com).