PaintLine Interior Door Spray and Dry System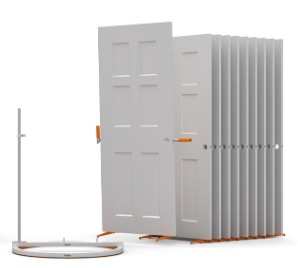 PaintLine has just introduced the Interior Door Spray and Dry System PSDRID, which allows a single operator to paint, finish and dry up to 20 full-sized doors in a minimum of work space and labor time.
The PSDRID System has a foot-operated turntable and bottom-edge, screw-in door stands, so operators can spray all sides of a door while they are standing in a stationary position. The PSDRID's hinge hole V-clips and door latch lift handles are employed for lifting newly painted doors from the turntable to a drying area.
Multiple doors of varying sizes can be closely nested together after painting, reducing drying space and promoting easy access for door installation. The PSDRID available now for pre-order, with shipping in early May. The MSRP is $785.00.
The PSDRID includes all components needed to accommodate up to 20 interior doors of various sizes. Removable overspray guards protect the turntable assembly and promote easy clean-up. The PSDRID also includes a carry bag for transport between jobsites. PaintLine plans to offer 10 door add-on packages for jobs which require greater capacity. To see video, additional product images, or to learn more, please visit PaintLine.
"We're always looking for ways to help our customers work faster and smarter," says Kyle Robinson, PaintLine CEO. "There are plenty of painting methods for interior doors out there, but nothing that allows a single operator to set up in minutes, spray all sides of the door from a single position and dry in a confined space. We're very excited to offer this alternative to the market."
PaintLine provides innovative, practical, and economical drying rack, spray stand, spray booth and other process-oriented product solutions for commercial painters, cabinet makers, remodelers, millwork shops, and DIYers. Its products are sold through a growing number of retailers as well as direct-to-consumer. PaintLine products include:
Portable Jobsite Spray Booth™ - a precision-manufactured, fully collapsible, aluminum frame that uses disposable plastic liners to protect the jobsite while spraying non-flammable, non-combustible finishes. This walk-in, open-faced booth sets up in minutes without tools, and packs into one carry bag for easy transport. Coming soon, the XL version!
ProDryingRackTM - a 50-shelf drying rack that rolls on casters, with removable shelves that can hold 25 LBS per shelf and up to 50 cabinet doors in 6-1/2 square feet of space. Assembles and disassembles easily with just 4 bolts. Now with optional Shelf Spikes and Shelf Felts.
ProDryingRack TT™ - a tabletop drying rack that can hold 20 cabinet doors up to 25 LBS each, stores flat to help manage space and features "brains optional" assembly with just 4 wing nuts.
ProDryingRack EX™ - a heavy-duty and yet highly mobile rack that easily expands from 20" to 60" with a quick release clamping handle that locks in the desired width. The PDREX has 15 shelves/levels with a shelf depth of 30", and expands from 20" to 60" and has a weight capacity of 900 LBS. Includes heavy duty casters.
ProDryingRack EX Plus Series uses PaintLine's two-towered, expandable PDREX as the base rack configuration for the series. o
PDREX3: Adds one tower, stabilizers and shelves for 120" or 10' of horizontal rack space and 1,350 LBS. of weight capacity.
PDREX 4: Adds two towers, stabilizers and shelves for 180" or 15' of horizontal rack space and 1,800 LBS. of weight capacity.
ProDryingRack SD™ - an integrated system designed for painting and drying cabinet doors in a vertical orientation with the least amount of effort and space. Parts hang for spraying of all sides in one step. Eighteen feet of drying line can accommodate up to 50 cabinet doors.
SprayTwirly™ - a rotating spray stand with three, retractable metal arms and integrated, adjustable paint pyramids for securely holding cabinet doors. Enables the operator to stand in one spot to spray the edges and top surface before transferring to a drying rack.
ProCart™ - a customizable material handling cart for transporting items around the shop or jobsite. Weight capacity of 2,000 LBS.
About PaintLine
Since the 1990s, PaintLine has provided innovative, practical and economical drying rack, spray stand and other process-oriented product solutions for cabinet makers, painters, millwork shops, residential remodelers, renovators, and DIYers. PaintLine is a Merchandising Systems Inc. brand, a leader in metal fabrication for material handling and retail store fixturing for over 50 years. PaintLine is headquartered in Menlo Park, CA. For more information, go to www.thePaintLine.com or call 1-510-477-9100.