Hitachi KNT50AB Professional Finish Combo Kit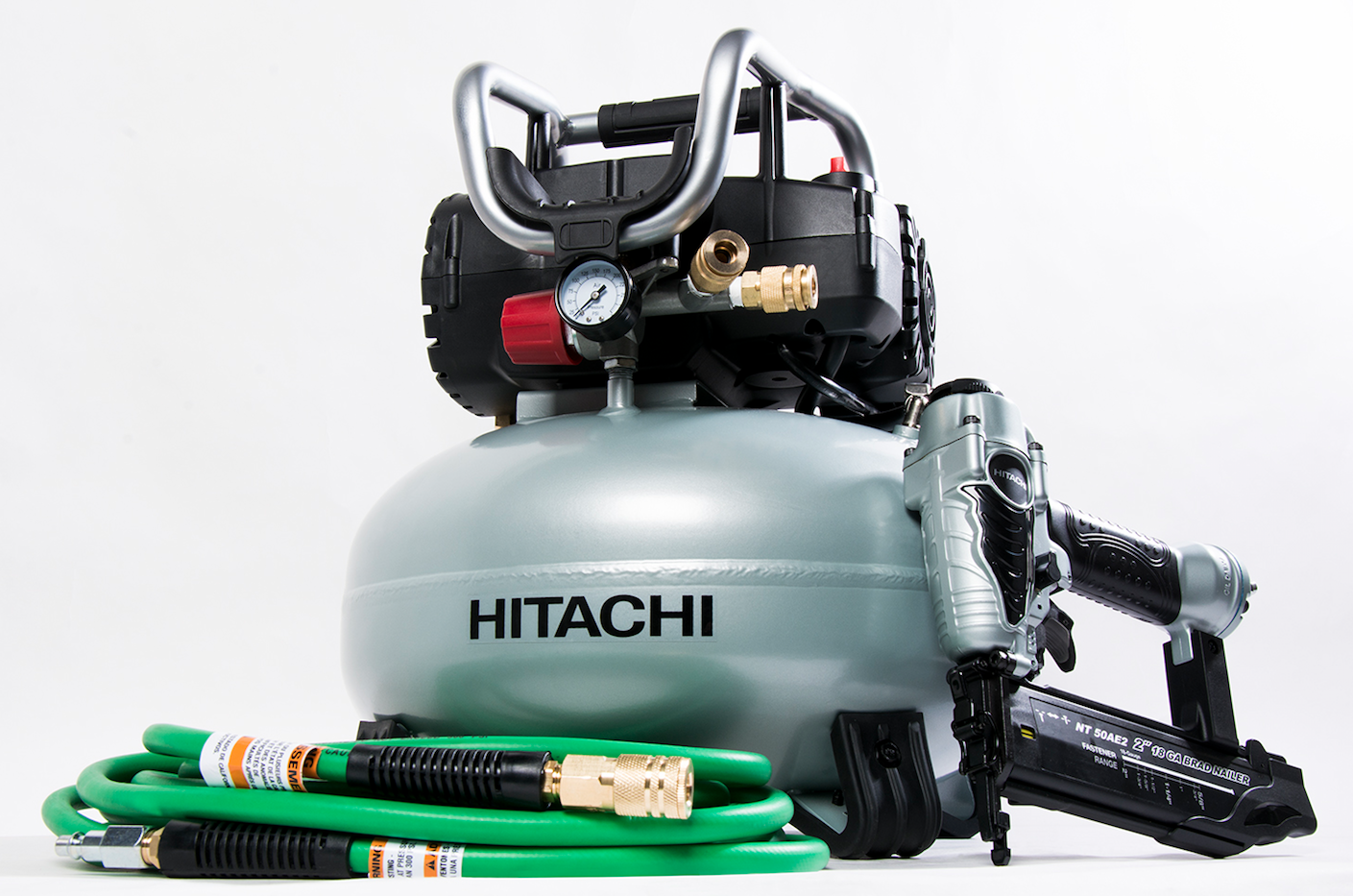 Hitachi Power Tools announces its new Finish Combo Kit, the KNT50AB featuring a new 6-gallon 150 Max PSI Pancake Air Compressor (model EC710S) and Hitachi's dependable and popular off-the-shelf 18-Gauge 2" Brad Nailer (model NT50AE2) along with a 25' hybrid hose, safety glasses and pneumatic oil.
This kit combines Hitachi's reputation for quality and performance into the ideal finish contractor system with plug and play convenience.
Hitachi's EC710S Compressor (sold exclusively as part of this kit) delivers portability with simplified operation. The pancake design is smaller and more compact to easily transport from job to job or around a home.
It incorporates a contractor-grade Universal motor for extended life. This 1 HP oil-free high efficiency motor ensures reliable startups, even in the coldest temperatures. It operates on a standard household current, while the 6-gallon tank provides a large reserve of air supply.
In addition to dependable long-term performance, the EC710S operates at 73 dB to ensure a quieter work environment. It produces 2.8 cfm at 90 PSI and 3.7 cfm at 40 PSI, and can operate multiple nailers depending upon the applications. Two universal quick connect couplers are factory installed for simple plug and play functionality. The max working pressure is 150 PSI, and the PSI on-off range is 120-150.
The industrial regulator and gauges provide easy and accurate PSI adjustments. Additional features that add convenience to the EC710S compressor include the easy-to-use ball valve drain cock for quick tank draining, rubber pads to help prevent surface damage wherever the compressor is set, and a steel roll cage with rubber grip to protect all the critical components, while providing comfort during transport.
The EC710S weighs just 36.5 lbs and comes with Hitachi's 1-year warranty.
Included in this Finish Combo Kit is Hitachi's popular NT50AE2 Brad Nailer that accepts 5/8" to 2" 18-Gauge fasteners to tackle almost any finish project. A simple depth-of-drive dial can be easily adjusted to adapt to woods of varying density for a professional finish. The selective actuation switch lets the user select between sequential mode or bump fire mode when precise placement is not required.
A convenient tool-less, easy-to-clear nose makes it quick and simple to extract a nail should one jam during use. The narrow nose and short center height help facilitate nail placement in hard to reach areas and tight corners.
At only 2.2 lbs, this brad nailer is lightweight and well-balanced for less fatigue during extended use. The grip is made from an elastomer compound that adds comfort and helps prevent slippage. A visual nail reload indicator located on the magazine turns yellow when nail quantities are getting low so that blank drives are avoided. The included no-mar nose tips protect the work surface from markings. A 360°adjustable exhaust port can be rotated to keep dust, debris and oil off the finish product and the user.
Hitachi's NT50AE2 comes with a 5-year warranty and is a popular 18 Gauge Brad Nailer to complete trim work, furniture and other finish applications.
The last component in this finish kit is Hitachi's new Hybrid Air Hose. This 25' hose is spiral reinforced and includes heavy-duty bend restrictors for added durability. It includes industrial fittings so it's ready to go out of the box. The hybrid nature of this hose results in it being extremely lightweight (about 25% lighter than a rubber hose) and also that it remains flexible in extreme cold temperatures up to -40°, which is an advantage over traditional polyurethane or rubber hoses.