Hand Tools: IDEAL Two Piece Offset Screwdrivers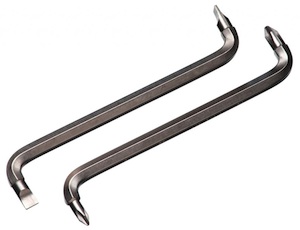 IDEAL has rounded out its line-up of professional-grade Made in the USA screwdrivers with the introduction of a two-piece offset kit that provides improved access to hard-to-reach fasteners.
Designed for use when a straight screwdriver can't reach around an obstruction or into a tight work space, the 90-degree, double-ended offsets improve productivity by featuring tips manufactured to tight tolerances ensuring accurate fit and full fastener engagement.
Three tip sizes are available for added convenience in Phillips and slotted designs. The new offsets are forged from custom heat-treated tool steel for superior strength and durability.
The introduction comes on the heals of several new IDEAL screwdrivers including:
Combo Head Cushioned-Grip Screwdrivers: Designed to fit a majority of Combo Screws, the tip is vapor blasted and precision machined to ensure accurate fastener fit and engagement, while the blade is Nickel-Chrome plated for corrosion resistance and durability. The Cushioned-Grip Cellulose Acetate handle provides maximum comfort and grip.
Quick Change Screwdriver: The ultimate multi-bit tool comes equipped with a patented Sure-Loc chuck that eliminates magnetic debris pick-up and dropped bits. The socket can be used with any standard bit or as a 1/4" nutdriver. The tail-end has the E-Z Spin high torque rotating flip cap with built-in bit storage that holds up to 5 extra insert bits.
21-in-1 Twist-a-Nut: This multi-bit, dual-ratcheting screwdriver is configured so that the four bits most frequently used by electricians are pre-loaded into the driver shaft with an additional 12 specialty bits securely stored for quick access within the handle. Its two interchangeable chrome-vanadium shafts were designed for effortless driving of 1/4", 5/16" and 7/16" nuts. In addition, the handle has two Accu-Loop wire looping holes to create perfectly formed wire loops, along with the patented Wire-Nut ratcheting wrench formed into its bottom.
Twist-a-Nut PRO: High-quality screwdrivers made for the professional electrician. Features a wire connector wrench in the handle to ease installation of twist-on-connectors, along with Accu-Loop wire looping holes. Performance-enhancing Chrome-Vanadium shanks are combined with precision, hand filed tips for accurate fit.
For more information, phone 1-800-947-3614. Fax: 1-800-533-4483. On the web, www.idealindustries.com.