Hand Tools: Rockler Mini Silicone Glue Brush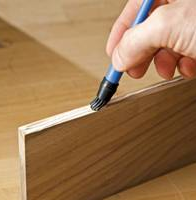 Rockler Woodworking and Hardware has just introduced the Mini Silicone Glue Brush, a re-usable glue brush made for small projects and detail work. The brush is a smaller version of the multiple award-winning Silicone Glue Brush and is made of the same silicone material which boasts easy cleaning and indefinite re-use. The Mini Silicone Glue Brush is designed for detail work and small projects including crafts, doweling, a variety of small joinery and work with narrow stock.
The Mini Silicone Glue Brush features a head that is 3/8" wide with bristles arranged in a circular shape. The narrow brush is ideal for small applications such as work with thin stock and small dovetail, tongue and groove, and box joints.
The opposite end is a tapered dropper tip with grooves to hold glue and apply it in narrow and hard-to-reach areas such as dowel holes and small grooves.
Cleanup is easy – wet glue can be rinsed off with warm water, and most cured woodworking glues simply peel and flake right off the Mini Silicone Glue Brush bristles, allowing the brush to be used over and over again.
The Mini Silicone Glue Brush (45495) is sold in packs of two and retails for $7.99 per pack.