Ideal 480 Series Digital Multimeters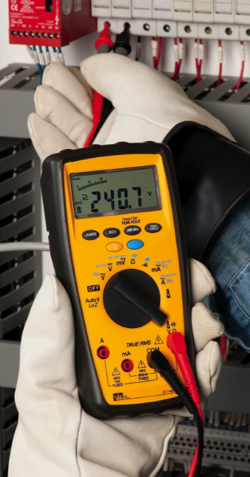 IDEAL unveils the next generation of its advanced digital multimeters, the 480 Series, providing commercial and industrial electricians with the industry's highest levels of measurement accuracy, versatility and safety at the most affordable price.
"When compared to the current number one selling multimeter in the electrical distribution channel, the 480 Series delivers greater value with more features and improved accuracy," said David Skowronski, Product Manager for IDEAL. "Value is always important to our customers, but it has never been more critical than in today's economy. The 480 Series multimeters deliver a high price-to-performance ratio."
Compact for one-handed operation and built exceptionally rugged, 480 Series multimeters offer a winning feature set that includes: True RMS voltage and current measurements, 6000-count resolution, an analog bar graph, active backlight LCD display, Auto-VLoZ to eliminate ghost voltages, and VoltSense non contact voltage detection. AC + DC True RMS ensures worry-free readings where harmonics exist, a common problem with today's high-tech commercial circuits. In addition, the multimeters give users the versatility to accurately measure electrical frequency, capacitance, resistance, continuity and diodes.
Another key feature contributing to the success of 480 multimeters is Smart Data Hold, a built-in alert system that lets the user know if there is a steadier reading available when the input signal is changing rapidly or is noisy. And because safety is a hallmark of all IDEAL testers, the new 480 Series is independently tested to Cat IV-600V and Cat III-1000V safety standards. There is also a magnetic hanger for easier set-up and viewing while freeing user's hands for other tasks.
IDEAL 480 series multimeters will be available in September at electrical distributors, home centers and on-line. The new line up include the following two SKUs:
61-484: Basic model with standard feature set. MSRP: $189.00 (U.S.) 61-486: Standard feature set plus higher accuracy, peak hold and temperature measurements (-40°F to 752°F). MSRP: $219.00 (U.S.).
Money 4 Meters Promo
The IDEAL "Money 4 Meters" promotion offers a rebate of $50.00 for the purchase of a 61-484 or 61-486 to end-users with a trade-in of any IDEAL or competitive digital multimeter.
For more information, phone 1-800-947-3614.