Adhesives: Intertape Sealing Tape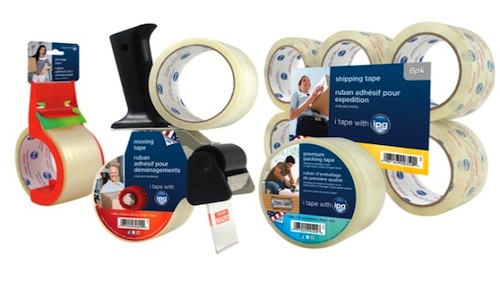 Intertape Polymer Group is launching 17 new carton sealing tape product solutions for the Consumer market.
IPG's Consumer Division designed these product mixes for specific carton sealing applications: Premium Packaging, Shipping, Storage and Moving. They come packaged in individual rolls, rolls with dispensers, or six-packs.
The Premium Packaging mix features a 3 mil hot melt carton sealing tape designed specifically for optimal closure of highly recycled corrugate, including 100% recycled box. It is manufactured with proprietary Corru-Grip adhesive technology.
According to Cathy Foley of the American Forest & Paper Association, "More than 90% of all corrugated boxes are now recovered for recycling and the average percent of recycled content in a corrugated box is now greater than 40%." The higher the percent of recycled content, the more challenging it is to seal the box. Recycled cartons have shorter, flatter fibers, and a much different chemical composition of its surface structure.
"This premium offering addresses the growing need for a reliable closure solution for corrugated boxes containing a high percentage of post-consumer fiber. Over time, we plan to expand the application of this technology to additional products within the IPG® carton sealing tape product category," stated Mary Jo Burgess, Director of Product Management - PSCST Systems.