Adhesives & Sealants: Pres-On PF-1400 Closed Cell Polyethylene Foam tape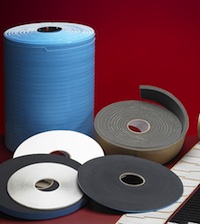 Pres-On PF-1400 low-density, closed cell polyethylene foam tape is a clean, waste-free alternative to liquid sealant. This industrial-grade tape offers excellent weatherability in a wide temperature range, making it ideal for the assembly of doors, windows and cars, as well as for contractors who install HVAC equipment.
PF-1400 addresses the manufacturer's need for a tape that provides long-lasting sealing, insulation, sound dampening and cushioning. OEMs will also appreciate the tape's superior wear resistance, ease-of-application, and flexible variety of thicknesses, widths and roll lengths.
PF-1400 is coated on one side with a high-tack pressure-sensitive rubber adhesive protected by a paper release liner. The adhesive will bond to virtually any clean substrate, including irregular surfaces where it conforms to shape a positive seal.
Functional temperature for the adhesive is 0° F to 140° F.