Tool Boxes: KNAACK 118-M Compact DataVault Mobile Station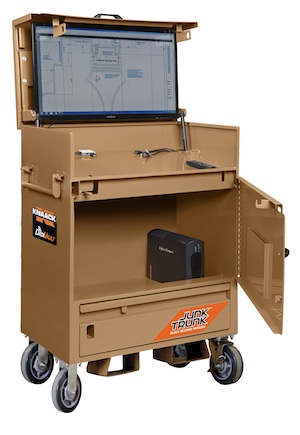 KNAACK introduces the DataVault Mobile Solution, Model 118-M, a fully-protected digital plan solution for onsite management. The DataVault Mobile is the latest addition to the DataVault Family of Solutions.
The KNAACK DataVault Mobile is a convenient jobsite connectivity solution that hosts the hardware and software all in one place, empowering productivity and digital collaboration throughout the jobsite.
The Model 118-M is an extension of the highly successful DataVault 118-01 and includes the same rugged durability but at a fraction of the size. It is ideal for sub or trade contractors who need multiple mobile personal kiosks throughout a construction site. The customized interior arrives on the jobsite, ready for use.
It includes a 32" touchscreen monitor to view plans and specifications, a large storage locker to fit a five gallon bucket of tools, heavy duty independent locking drawers for quick access to high demand tools and accessories as well as additional technology components necessary to run any project.
The DataVault also protects against theft and withstands harsh jobsite conditions. KNAACK storage solutions bring over 50 years of design knowledge in jobsite security to DataVault. The product utilizes patented dual Watchman IV independent locking design to secure tools, and is built with 16-gauge steel for long lasting protection.
With the KNAACK DataVault Mobile, professional contractors can reach any job on the site during any stage of the construction process. The Model 118-M fits through a standard 28" wide steel door frame and the product ships with wheel casters and 4-way skid access, so that the DataVault Mobile can be placed with a forklift from all sides.