Tool Boxes: Vidmar Keyless Keypad Lock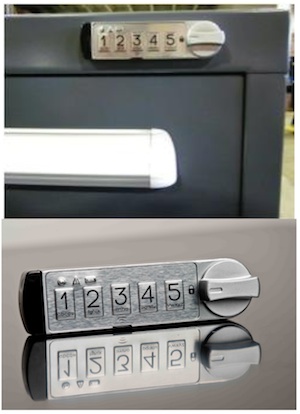 Vidmar has launched a Keyless Keypad Lock for Vidmar Drawer Cabinets serving as an alternative to the SL10 keyed locking option. The new Keyless Keypad Lock offers the following benefits:
The ability to program up to 25 different user codes for unique user access
Eliminates the need to order and manage multiple locks and keys for different cabinets within a facility
Eliminates the need for a key to lock and unlock a cabinet—no more lost keys!
Each Keyless Keypad Lock consists of:
A zinc alloy lock housing with a motorized lock mechanism and retaining clip
Lock toggle and lock rod (based on cabinet depth)
The Keyless Keypad Lock can be factory or field-installed and should be ordered based on the depth of the cabinet.
Vidmar offers both new and potential customers a free onsite analysis to ensure that all storage needs are being addressed. Interested businesses should visit www.STANLEYVidmar.com/contact or call 800-523-9462.