Hand Tools: KT Pro Tools Adjustable Slip-Jaw Wrench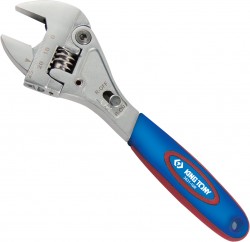 KT Pro Tools is proud to release the next generation of an innovative hand tool design, the first Adjustable Slip-Jaw Wrench!
This new tool will revolutionize the adjustable wrench market and the applications for which the tool is used. Once the jaw is adjusted to the size of the fastener, no longer will the user have to tighten, then remove the tool and re-attach to continue tightening. Simply index the tool back to the original position without removing the tool from the fastener and continue the tightening sequence!
Additional features of this tool: heavy duty construction for the industrial market, co-molded ergonomic soft grip for user comfort, a lanyard hole for tool belts and a lock-out switch if the user chooses to operate the tool without the new patented ratchet feature.
This new product along with our full line of mechanics hand tools are made available through our network of independent industrial and construction supply distributors.