Hand Tools: The "Perfect Butt" Profile Scriber from M.POWER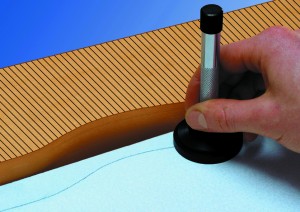 Originally designed for kitchen layout crews in the UK, the Perfect Butt Profile Scriber takes the guess work out of accurately profile scribing countertops, saving considerable time in the process.
The usual make-shift tool for parallel scribing was a pencil stuck at one end of a block of wood that was hand held parallel to the wall profile, leaving, if you were lucky and with the wind in the right direction, a drawn line to cut to that "sort of matched" the profile of the wall.
The Perfect Butt removes the element of luck and skill from this process.
The unique solution being that the scribing pencil is held at the axis point of a wheel, which guarantees a constant distance between profile and scribe point - cut to that line you'll find a Perfect Match between wall and work surface with no finessing required.
Much loved and rapidly becoming an "essential" tool in the Kitchen installer's toolbags, the Perfect Butt was then embraced by flooring pro's who suffered from the same problems as the kitchen guys — but at ground level. They find it ideal for fitting:
Laminate floors
Ceramic tiles
Cushioned flooring
Workshop-based woodworkers find it great for proportioning details during design layout, giving 5 different scaled-up off-sets as well as for offsetting the formers for bent-wood lamination.
The tool features:
5 different quick change wheels
Spring-loaded pencil to ensure constant contact pressure
Solid brass counter bored retaining shaft
With a Perfect Butt in your hand, the results of your work are very easy on the eye.