Klein Tools Klein-Kurve 1019 Wire Stripper/Crimper Multi-Tool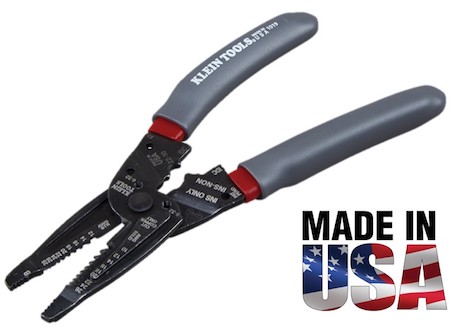 Klein Tools introduces the Klein-Kurve Wire Stripper/Crimper Multi-Tool, which not only crimps four connector types but also twists, loops and strips solid and stranded wires and shears 6-32 and 8-32 screws. This innovative new multi-purpose tool was designed specifically to help voice-data-video professionals navigate through complex wiring systems.
Klein-Kurve Wire Stripper/Crimper Multi-Tool (Cat. No. 1019)
Versatile functionality increases efficiency and convenience
— Strips 10-26 AWG solid and 12-28 AWG stranded copper wire
— Crimps 10-22 AWG insulated and non- insulated terminals, B connectors and Scotchlok® IDC connectors
— Cleanly shears 6-32 and 8-32 screws
Reinforced head reduces flex and keeps stripping holes true to size
Precision, shear-type cutting blades make every day cutting easier
Tip designed to grab, pull and bend the smallest of wires
Holes enable effortless wire looping and twisting
Double dipped Klein Kurve comfort grips provide extra comfort for all-day use
Scotchlok is a registered trademark of 3M
"Klein Tools' team of innovators heard stories of how switching between tools while completing a task results in wasted time and unnecessary frustration," says Austin Minor, product manager at Klein Tools. "The new Klein-Kurve Wire Stripper/Crimper Multi-Tool offers the versatility and convenience tradespeople rely on, all with a durable design manufactured right here in the United States. This new multi-tool is the perfect addition to any voice-data-video professional's tool bag, helping to make twisting, stripping, cutting, shearing and crimping wires easier."
For more information, visit www.kleintools.com/new-products or search for #NewKleins on social media.