Mayhew Dominator Pry Bar Storage Racks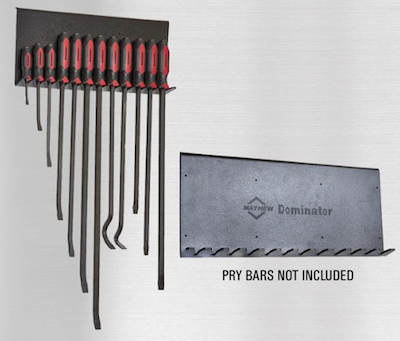 Mayhew Steel Products, Inc. introduces two new Dominator Pry Bar Storage Racks. Both racks can hold up to 12 pry bars (not included) and are made from durable 1/4-inch-thick ABS material that is impact resistant.
One of the racks, Part No. 13070H, can hang from a welded cabinet or attach to a wall with proper screws (not included). Part No. 13070L is box-lip mounted rack that can hang on the edge of a cabinet or toolbox using magnets.
The heavy-duty racks, made in the USA and backed by a lifetime warranty, provide convenient storage and quick access for tools. The racks' 5° angled pitch ensures the stored tools' shafts and blades are kept away from the wall or cabinet.
Mayhew Tools are sold through an extensive network of global distributors, primarily serving the industrial, automotive, and hardware markets.
For more information, contact Mayhew Tools at 800.872.0037 or visit www.mayhew.com.