Stationary Tools: Lackmond BEAST WTS2000L 10-Inch Wet Tile/Stone Saw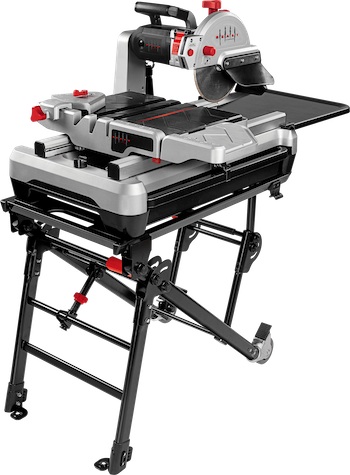 Repeatable accuracy is the single most important feature of a professional tile saw, and the Lackmond BEAST 10" tile saw delivers in a way other saws cannot.
Lackmond's industry leading saw utilizes five stainless steel roller bearings and multi-point adjustable rails to give you smooth, repeatable accuracy every cut. This feature prevents chipped tiles and inconsistent cuts often experienced with competitive models.
*Rotating Motor for Bevel/Miter Cuts
The BEAST cutting head rotates to 22.5 and 45 degrees for simple and accurate bevel cuts. By moving the cutting head, the BEAST WTS2000L eliminates the problem of an unstable work surface and ensures a consistent, repeatable accuracy in all bevel cuts.
* Integrated Folding Stand with Wheels
The integrated folding stand on the BEAST WTS2000L Tile Saw makes set up and take down a breeze. This system allows the BEAST to be set up, operated and then taken down by one person.
* 24" Rip Cut and 18" Diagonal Capacity
The 24" Rip Cut and 18" Diagonal Capacity of the BEAST WTS2000L makes working with large tiles simple and quick. The BEAST is capable of ripping and diagonal cutting the most popular large format tiles on the market with repeatable accuracy and razor sharp cuts.
* Laser Guide Line and LED Work Light
The BEAST includes a laser guideline and LED work light. The fully adjustable laser aids in the most troublesome cutting situations: the beginning and end of a diagonal cut. The LED work light helps you see your cut when it matters most. Aiding in low work light workspaces and helping you clearly see all aspects of your work surface.
The BEAST WTS2000L comes with a Porcelain blade included and a 3 Year Warranty from Lackmond Products Inc.
Lackmond Products Inc., based in Marietta, GA, is a leading marketer of diamond tipped saw blades and accessories in the cutting tool market. The company has been serving professional construction and plant maintenance markets for over twenty plus years, with eight warehouses in the United States as well as international locations in Canada and Latin America. For more information visit www.lackmond.com or call 1-800-850-2044.