Stationary Tools: Rockler To Carry FastCap Best Fence System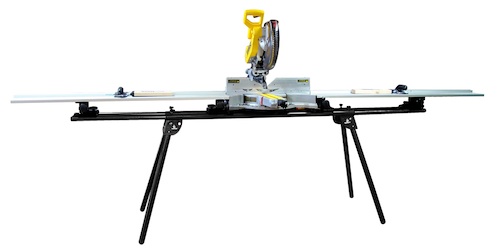 Rockler Woodworking and Hardware now distributes a variety of new products from the FastCap Best Fence System. The system is designed to help woodworkers and contractors achieve an extremely high degree of accuracy on a miter or chop saw. The FastCap Best Fence System includes a portable stand unit that can easily be set up on a work site and a sturdy aluminum fence system to facilitate steady, accurate, consistent cuts.
"The FastCap Best Fence System is really a revolution for the mobile work site," said Steve Krohmer, Rockler's Vice President of Product Development. "The fact that it's now possible to achieve shop-level accuracy with a chop saw out in the field is very exciting to craftsmen and women in a variety of disciplines. This system really stabilizes the saw and provides a very solid fence so users get consistent, accurate cuts anytime and virtually anywhere."
The Best Fence System utilizes a heavy-duty saw stand with universal mounting rails which fit any model of chop saw and employs fences and stops to guide cuts for trim work, siding, framing, and other project needs. Utilizing the FastCap Best Fence System and optional accessories, users are able to formulate a setup for their miter saw at virtually any work site.
The FastCap Best Fence System is made up of several different models and accessories to accommodate various types of miter or chop saws. See below for a list of products and prices.
Additional FastCap Best Fence System details can be found by clicking here, For store locations or a free catalog, please visit the home website at www.rockler.com or call 1-877-ROCKLER.