Larson 150 Watt Tripod Mounted Explosion Proof LED Light Tower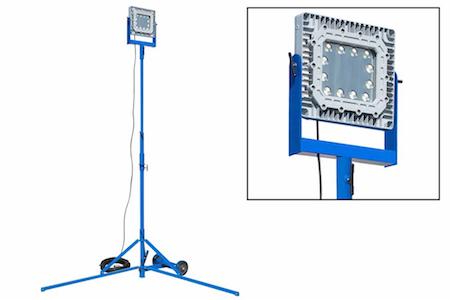 Larson Electronics, a Texas-based company with over 40 years of experience spearheading the industrial lighting sector, announced the release of a portable explosion proof LED light tower. This unit produces 9,500 square feet of coverage with 17,500 lumens of light output and a color temperature of 5600K and color rendering index of 75. This light tower features Cree LEDs generating 116.67 lumens per watt with an 80% lumen retention at 60,000 hours.
The EPL-QP-1X150RT-24V-50 portable, explosion proof LED lighting system is adjustable with a non-sparking aluminum collapsible tripod on wheels that can be extended to 9.42 feet and collapsed to 6.8 feet. This light tower is IP67 rated, dust proof and protected against high pressure jets and temporary submersion.
This unit is rated Class I, Divisions 1 and 2, Groups C and D; Class II, Divisions 1 and 2, Groups E, F and G; and Class III, Divisions 1 and 2.
Larson Electronics' light tower features a lamp that can be adjusted vertically and locked into position with various beam angle options, including an intense 60˚ beam for narrow spaces and tank cleaning, a 125˚ beam that is more diffused with less intense brightness making it ideal for general work areas, and a 140˚ beam offering a wide lighting pattern for wider area illumination. This unit is suitable for emergency services, mining, construction, marine and industrial operations.
This unit operates on 24V AC or DC, 50/60Hz (other volts also available) and is equipped with 50 feet of 12/3 SOOW cord fitted with an explosion proof cord cap. Plug options include a 5-15 15-amp straight blade plug for use with 120V explosion proof outlets, a 5-20 20-amp straight blade plug for use with 120V explosion proof outlets, or a 6-20 20-amp straight blade plug for use with 220-240V explosion proof outlets.