Streamlight ProTac 90 Right-Angle Light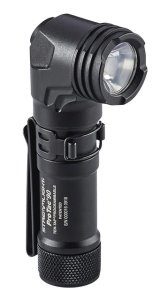 Streamlight, Inc. introduces the ProTac 90, the latest addition to the ProTac series of tactical lights. The ultra-compact, 300-lumen light features a 90-degree head for right-angle lighting, and also permits varied fuel options, including the use of a single CR123A lithium, AA alkaline or AA lithium battery.
"The combination of its light output, size, and multi-fuel technology makes the ProTac 90 one of the brightest and most versatile tactical lights on the market today," said Streamlight Vice President, Sales and Marketing, Michael F. Dineen. "With its 90-degree head and a multi-function clip designed to fit MOLLE and other gear, it provides a variety of wearing options for tactical professionals, sports enthusiasts and others requiring hands-free operation. And users can choose between several different battery options to suit their need or preference."
The ProTac 90 uses the latest in power LED technology for extreme brightness. Offering three different lighting modes, the light features a TEN-TAP programmable switch, which allows for user selection from among three programs: high/strobe/low (factory default); high only; or low/high.
The ProTac 90 is powered by either one CR123A lithium, AA alkaline, or AA lithium battery. When using a CR123A battery, it delivers 300 lumens and 5,400 candela over a 147-meter beam distance on High. Run times range from 1 hour and 45 minutes to 5 hours and 30 minutes on High, and from 8 hours and 15 minutes to 15 hours on Low, depending on battery selection.
Fabricated from machined aircraft aluminum with a black anodized finish, the ProTac 90 features a multi-function, push-button tactical switch that permits one-handed operation of the momentary, variable intensity and strobe modes. In addition, the light can operate while in the holster.
The ProTac 90 measures just 3.78 inches in length and weighs 2.8 ounces with a CR123A battery or 3.1 ounces when using the AA alkaline battery. Both batteries are included. The light has an IPX7-rated design for waterproof operation to one meter for 30 minutes, and is impact resistance-tested to two meters.
The ProTac 90 has an MSRP of $68.00. It comes with a removable pocket clip and Streamlight's Limited Lifetime Warranty.
For additional information, please call 800-523-7488, or visit www.streamlight.com