Cables & Lights: Larson CM-4X400LTL-25 1600 Watt LED flood light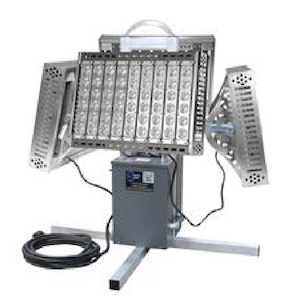 With over 40 years as a leader in the industrial and commercial lighting industry, Larson Electronics continues its commitment to providing high grade lighting equipment to specialty markets with the release of a 1600 watt portable LED flood light system that is designed for rugged, yet portable use and is ideal for demanding industrial and outdoor conditions.

The CM-4X400LTL-25 LED flood light system from Larson Electronics is a portable lighting system constructed with four 400 watt LED light heads that produce 208,000 lumens of light combined. This portable lighting system is comprised of a lightweight aluminum assembly fitted with four high output LED lamps mounted to a portable aluminum frame.
Each light head on this unit contains fifty-four Bridgelux high output LEDs producing 963 lumens each are arranged in rows and paired with high purity optics to produce a well-focused 25° wide spot beam that is ideal for providing far reaching concentrated illumination while still covering a substantial amount of area.
Each floodlight is securely fastened to the frame and each lamp includes a stainless steel support bracket to help maintain lamp stability within its housing. The LED lamps can be easily adjusted up, down, or from side to side independently of each other and locked into position for maximum coverage of the work area.
This portable crane mounted LED flood lighting system is operated via centrally located control box with power switches within the cube frame, allowing operators to power the LED lights on and off. This unit includes twenty-five feet of 12/3 SOOW cable terminated in a twist lock plug.
A waterproof twist lock connector allows for secure connection during deployment and ensures the light system will not come unplugged during operation. This heavy duty unit is designed for use in demanding conditions and for overall longevity in difficult construction environments with heavy duty aluminum construction for maximum durability.

"This new flood light system is ideal for hanging from cranes and incorporates a pick eye mount for easy positioning of the unit from one space to another," said Rob Bresnahan with Larsonelectronics.com. "This unit is constructed for rugged use and is ideal for industrial, commercial, and military applications where a dependable, durable lighting system is required."

Visit www.Larsonelectronics.com or call 1-800-369-6671 to learn more.