Larson Electronics 5-10P International Schuko Plug Adapter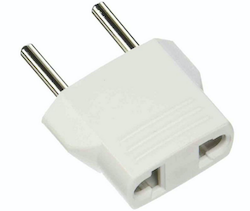 Industrial lighting leader, Larson Electronics LLC, announced the release of 5-10P type B international Schuko plug adapter. This type C plug adapter allows operators to utilize European Schuko outlets with USA 5-10P plugs, to power 110/220V electronics.
The RL-85-INTL-AC-5.10-SCHUKO is a 5-10P plug adapter that allows users to power electronics operating on a 110V-220V transformer, or dual 110/220 voltage, using European outlets. The type C international Schuko plug adapter has worldwide use capabilities, ideal for a vast variety of applications.
"This plug adapter is an extremely useful piece of equipment," said Rob Bresnahan, CEO of Larson Electronics LLC. "It's small, easily portable and inexpensive, so operators can take it anywhere it may be needed."
Larson Electronics LLC is a manufacturer of industrial lighting equipment and accessories. The company offers an extensive catalog of industry-grade lighting and power distribution products for the following sectors: manufacturing, construction, food processing, oil and gas, military, marine and automobile. Customers can benefit from the company's hands-on, customized approach to lighting solutions. Larson Electronics provides expedited service for quotes, customer support and shipments.