Larson Electronics Explosion Proof Handheld LED Light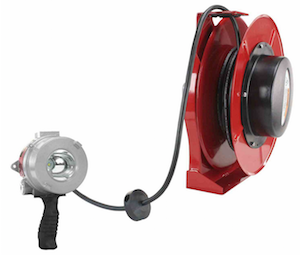 Industrial lighting leader Larson Electronics LLC, announces the release of a handheld explosion proof LED light with a cord reel for hazardous locations. The LED fixture provides 1,320 lumens of white light, includes advanced LED drivers for control of heat buildup, and features a special ergonomic handle for convenient and comfortable use, while the cord reel provides 50 feet of 12/3 SOOW cable.
The EXHL-HL-LE4-WHT-X12V-GR50 from Larson Electronics is a handheld explosion proof LED with a cord reel that provides operators with a convenient lighting solution, great for detailed tasks in hazardous locations such as oil, gas and agricultural facilities, grain storage, paint spray booths, manufacturing plants, outdoor locations and more.
The handheld LED is a low voltage unit with two configurations: a 10-degree spot beam that measures 800 feet long by 140 wide, and a flood beam with a 40-degree beam measuring 300 feet in length and 225 feet in width. With a high color-temperature rating of 6,000K the handheld LED fixture offers improved detection of dangerous elements, obstructions and abnormal conditions in the surrounding area.
This explosion proof LED light features advanced drivers that use pulse width modulation to control heat buildup to maintain the proper heat levels within acceptable ranges. The unit is housed in extruded aluminum with a polycarbonate lens that protects the LEDs, which are resistant to vibrations and shocks.
NEMA Type 3, 4, 4X, 7 (B, C, D) and 9 (E, F, G) rated, this handheld luminary is designed to withstand harsh demanding environments and operating conditions. The EXHL-HL-LE4-WHT-X12V-GR50 can withstand temperatures of -40° Celsius to 60° Celsius, is waterproof to 3 meters and resistant to dust and dirt.
The cord reel included with the handlamp is equipped with 50 feet of 12/3 chemical and abrasion resistant SOOW cord fitted with an industrial grade cord cap. The cable is installed and tested, with 50 feet of active travel and 2 additional feet for safety wrap and hook up. The reel is constructed with durable steel finished with yellow and white powder coating and can be mounted onto flat surfaces out of the way of walking room and other equipment.
"With two beam configurations, protection from heat buildup and an explosion proof build, this lightweight handheld LED light is perfect for detailed tasks in hazardous locations," said Rob Bresnahan, CEO of Larson Electronics LLC. "The 50-foot cord reel provides operators with a generous amount of extension to use the light flexibly throughout their work space."