Larson Electronics Explosion Proof Extension Cords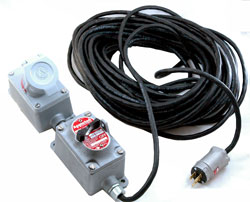 Larson Electronics LLC announces the release of a new series of explosion proof extension cords. These explosion proof cords allow operators to safely extend the range of their lights or equipment cords beyond the boundaries of their hazardous work areas.
Each of these explosion proof extension cords (EPEXC-CO Series) is constructed of SOOW cord and rated at 20 amps of continuous service. The cord is chemical and abrasion resistant and comes with an explosion proof, 20 amp EPCO-20A connector style receptacle with a hinged cover installed on one end and an explosion proof 20-amp plug installed on the other end.
The receptacle is constructed of non-sparking aluminum and finished with an epoxy powder coating for durability and added corrosion resistance. The internal plug contacts are constructed of brass and designed to maintain constant pressure along their entire length for better connectivity.
A neoprene seal fitted inside the connector seals against the plug when inserted to provide sealing against water, and a spring loaded door provides an automatic weather-tight seal when the plug is removed. With no devices plugged into the connector, the lid will screw shut, providing a NEMA 4X seal and a NEMA 3 seal when a plug is installed in this connector.
"Running cords through any workspace, much less a hazardous one, can be a daunting task," said Rob Bresnahan, CEO of Larson Electronics LLC."The Class 1 and 2, Division 1 and 2 rating on the plug and connector of these explosion proof extension cords makes them the safest choice when looking to extend the work area of any hazardous location equipment."
Larson Electronics LLC is a manufacturer of industrial lighting equipment and accessories. The company offers an extensive catalog of industry-grade lighting and power distribution products for the following sectors: manufacturing, construction, food processing, oil and gas, military, marine and automobile. Customers can benefit from the company's hands-on, customized approach to lighting solutions. Larson Electronics provides expedited service for quotes, customer support and shipments.