Lone Star Drills LS400T+ Rotary Head Well Drill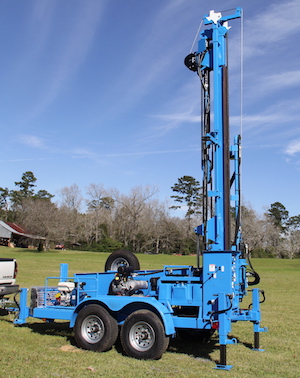 Lone Star Drills, a division of Little Beaver Inc. and manufacturer of efficient and portable drilling equipment, introduces high-torque Rineer rotary vane hydraulic motors for its LS400T+. The powerful water well and geothermal drill is Lone Star's largest rig and efficiently drills as deep as 400 feet through hard rock and volcanic formations. The new hydraulic motor reduces rotary service time from days to less than an hour.
"The Rineer motor and Super Swivel combination is an all-around improvement compared to the drill's previous top drive swivel and hydraulic motor. It's easier to work on, provides greater torque, and is priced right, making it economical to keep a backup swivel on hand for emergencies," said Joe Haynes, Little Beaver president.
"With the previous rotary, servicing a leak often took the drill out of use for two to three days while the swivel was in the shop. Now the drill can be up and running in about 30 minutes with a backup swivel and operators can replace seals on the leaking swivel at their leisure."
Lone Star offers the LS400T+ with two different Rineer motors, both providing greater torque than the drill's previous hydraulic motor. The MV037 operates at a maximum speed of 125 rpm and is ideal for mud rotary drilling. The motor generates up to 1,030 foot-pounds of torque at 3,000 psi. The larger MV057 operates at a maximum speed of 60 rpm and is ideal for DTH hammer drilling. It offers as much as 2,200 foot-pounds of torque at 3,000 psi.
The LS400T+ delivers 15,000 pounds of pullback force — three times more than Lone Star Drills' next largest model — and 9,000 pounds of push-down force. And at a weight of 7,700 pounds, the drill requires less anchoring than lighter trailer-mounted rigs. It also accommodates 10-foot drill pipe, which allows crews to quickly reach target depth.
The rugged water well drill is trailer mounted and towable by small truck or UTV. The trailer features surge brakes, three hand jacks for leveling and can be fitted with either a pintle ring or ball hitch. It also includes an integrated pipe rack to conveniently transport drill pipe between locations.
Lone Star Drills offers innovative additions to the Little Beaver product family. The company designed the drills to be convenient, powerful solutions in areas with minimal resources for transportation and operation. The 12 models are ideal for use in a variety of applications, including soil sampling, geotechnical testing and auger drilling.
For more information: Little Beaver, 2009 South Houston, Livingston, TX 77351; 800-227-7515, fax 936-327-4025; sales@littlebeaver.com; www.lonestardrills.com or www.littlebeaver.com.