Magswitch Technology Switchable Magnetic Ground Clamps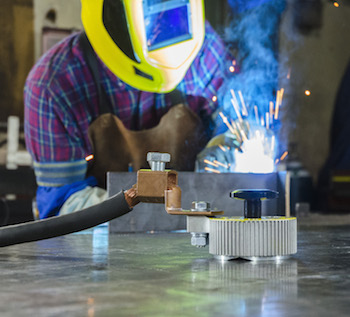 Magswitch Technology is introducing a new and improved line of magnetic ground clamps, further revolutionizing the welding and fabrication industry, one tool at a time.
The second generation of the Magswitch Ground Clamp Series has an all new fin design with increased surface area that lowers temperature by almost 27%. This generation offers higher amperage clamp including 300-, 600- and 800-Amp. These clamps all have a stronger hold in the shear or vertical position.
The improved ground clamps let welders quickly setup, weld and move on to the next job. Simply place the clamp on a clean surface, turn it on and instantly ground on flat or round surfaces.
These revolutionary clamps have the ability to attach to surfaces where traditional clamps cannot. This provides instantaneous grounding once turned on, increasing welding efficiency by eliminating the need for welding tabs. Magswitch Technology's complete ON/OFF technology allows the grounding clamp to stay clean. Turn off the ground clamp and watch the debris fall away after each use!
Using thermal analysis, Magswitch engineers found ways to improve upon an already proven design. The fin design on the new ground clamps reduce the size of high temperature zones around the magnets. The reduction in temperature reduces the amount of heat that the magnet is subjected to and extends the life of the tool. With the new model, the fins reduce the temperature through the unit resulting in a significantly cooler handle temperature.
Magswitch Technology continues to develop tools improving safety, productivity and efficiency, always in the spirit of "Changing the way things are done."
For more information, visit www.magswitch.com.au or call (303) 468-0662.