Simpson Strong-Wall Wood Shearwall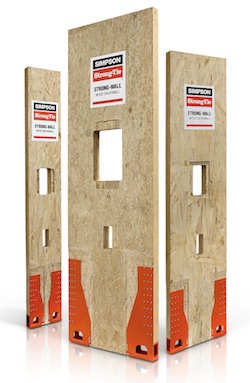 Simpson Strong-Tie now offers a redesigned prefabricated wood shearwall that provides greater installation flexibility for contractors and additional design options for specifiers. The Strong-Wall Wood Shearwall replaces the Strong-Wall SB shearwall and can be used in the same applications, including residential, multi-story, and light-frame commercial wood structures.
The new Strong-Wall Wood Shearwall features a holdown with visible front, back and side access to make it easier to install the anchorage attachment in various framing conditions. The front access opening also allows for easy inspection of the connection to the anchor bolt.
The wood shearwall can be trimmed and drilled in the field, providing additional flexibility, and a simpler top-of-wall connection provides options for a one- or two-sided plate solution. The wood shearwall is code listed (ICC-ES ESR-2652 and City of L.A. RR 25730 evaluated to the 2015 IRC/IBC) and allows for the same or higher loads than the previous SB shearwall in both seismic and wind applications.
"We redesigned this product after hearing from our customers that front access would increase their installation options in the field," said Sam Hensen, vice president and general manager, Connectors and Lateral Systems. "The Strong-Wall Wood Shearwall is our 'new and improved' version that simplifies specification, installation and inspection."
For more information about the new Strong-Wall Wood Shearwall, visit www.strongtie.com/wsw.